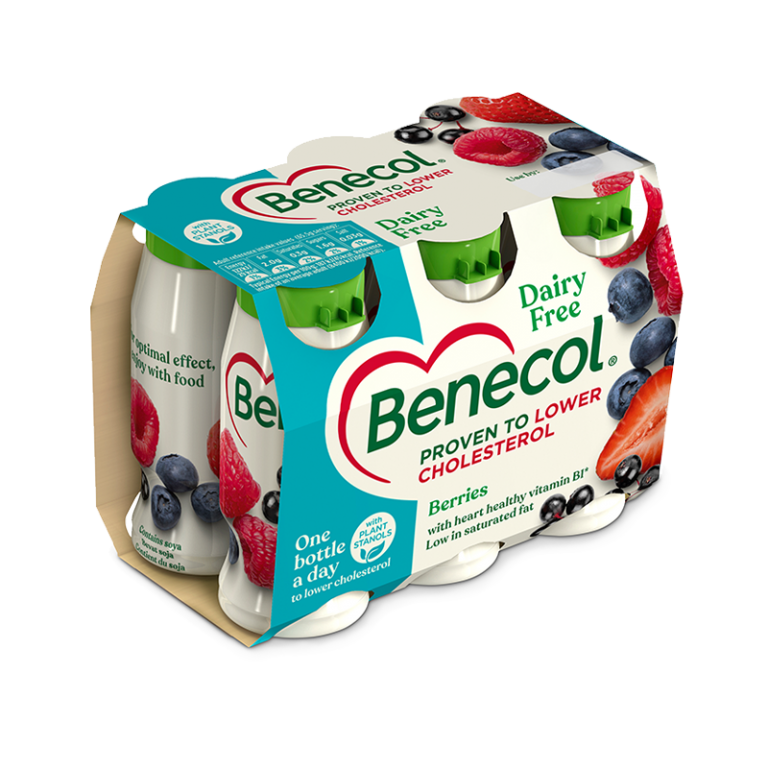 Berries Soya Drink
Not only is this delicious yogurt drink bursting with the taste of berries, having just one bottle a day provides 2.0g plant stanols daily enough to lower your cholesterol by 7-10% in just 2 to 3 weeks. Each bottle also contains an extra boost of heart healthy vitamin B1* which is shown to help maintain normal heart function.
Information
Pack Size: 6 x 65.5g
Ingredients
Water, Fruit juices 5.7% (Raspberry 2%, Strawberry 2%, Elderberry 1.2%, Blueberry 0.5%), Plant Stanol Ester (plant stanols 3%), Soybeans 3.4%, Fructose, Stabiliser (pectine), Flavourings, Lemon juice, Sweetener, (sucralose), Cultures, Vitamin B1*.
*Vitamin B1 contributes to the normal function of the heart.
Nutrition facts
Per 100g

Per serving 65.5g

Energy

187kJ/ 45kcal

122kJ/ 29kcal

Carbohydrate

of which sugar

Protein

1.5g

1.0g

Salt

0.04g

0.03g

Vitamin B1

0.51mg (46% RI)

0.33mg (30% RI)

Plant Stanols intake

3.0g

2.0g
RI= Reference Intake