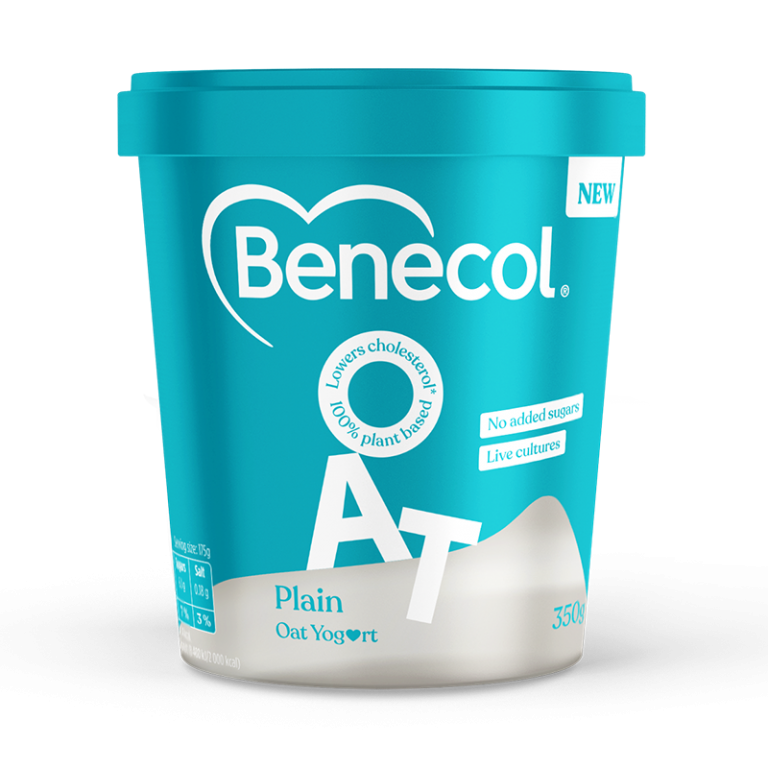 Nutrition facts
Per 100g

Per serving 175g

Energy

296 kJ/ 74 kcal

518 kJ/ 130 kcal

Carbohydrates

of which sugars

Fibre

0.5g

0.9g

Protein

1.3g

2.3g

Salt

0.10g

0.18g

Vitamin D2

0.75ug (15% RI)

1.3ug (26% RI)

Vitamin B2

0.21mg (15% RI)

0.37mg (26% RI)

Vitamin B12

0.38ug (15% RI)

0.67ug (27% RI)

Calcium

120mg (15% RI)

210mg (26% RI)

Plant stanols

1.2g

2.0g
RI = Reference Intake
Oat Yog♥rt Plain
Benecol® OAT Oat Yog♥rt is a plant-based yogurt alternative, which is more than just 100% plant based – it's kind to your heart too. It's made from delicious oats, with live cultures and a soft and smooth texture – without any added sugars. It's enriched with plant stanols to lower your cholesterol. Oh, and it tastes amazing too!
Information
Benecol® OAT Oat Yog♥rt is made from Finnish oats, produced carbon neutrally and packed in a sustainable pot made of 80% paper.
Enriched with plant stanols to lower your cholesterol
No added sugars*
Live cultures
No artificial colours, flavours, preservatives, or sweeteners
* Contains naturally occurring sugars from oat.
Pack size 350g. Half a pot (175g) provides 2g of plant stanols to lower cholesterol in 2-3 weeks when consumed with a meal as part of a healthy diet and lifestyle.
Ingredients
Oat base (water, gluten free OAT 10%), plant stanol ester (plant stanols 1.2%), starch, rapeseed oil, stabilisers (pectin, gellan gum), potato protein, calcium, salt, emulsifier (citric acid esters of mono and diglycerides of fatty acids), vitamins (B2, B12, D2), live cultures (S.thermophilus, L. bulgaricus).
Nutrition facts
Per 100g

Per serving 175g

Energy

296 kJ/ 74 kcal

518 kJ/ 130 kcal

Carbohydrates

of which sugars

Fibre

0.5g

0.9g

Protein

1.3g

2.3g

Salt

0.10g

0.18g

Vitamin D2

0.75ug (15% RI)

1.3ug (26% RI)

Vitamin B2

0.21mg (15% RI)

0.37mg (26% RI)

Vitamin B12

0.38ug (15% RI)

0.67ug (27% RI)

Calcium

120mg (15% RI)

210mg (26% RI)

Plant stanols

1.2g

2.0g
RI = Reference Intake