'Cook with love, eat for life recipes' – Creamy Salmon and Potato Bake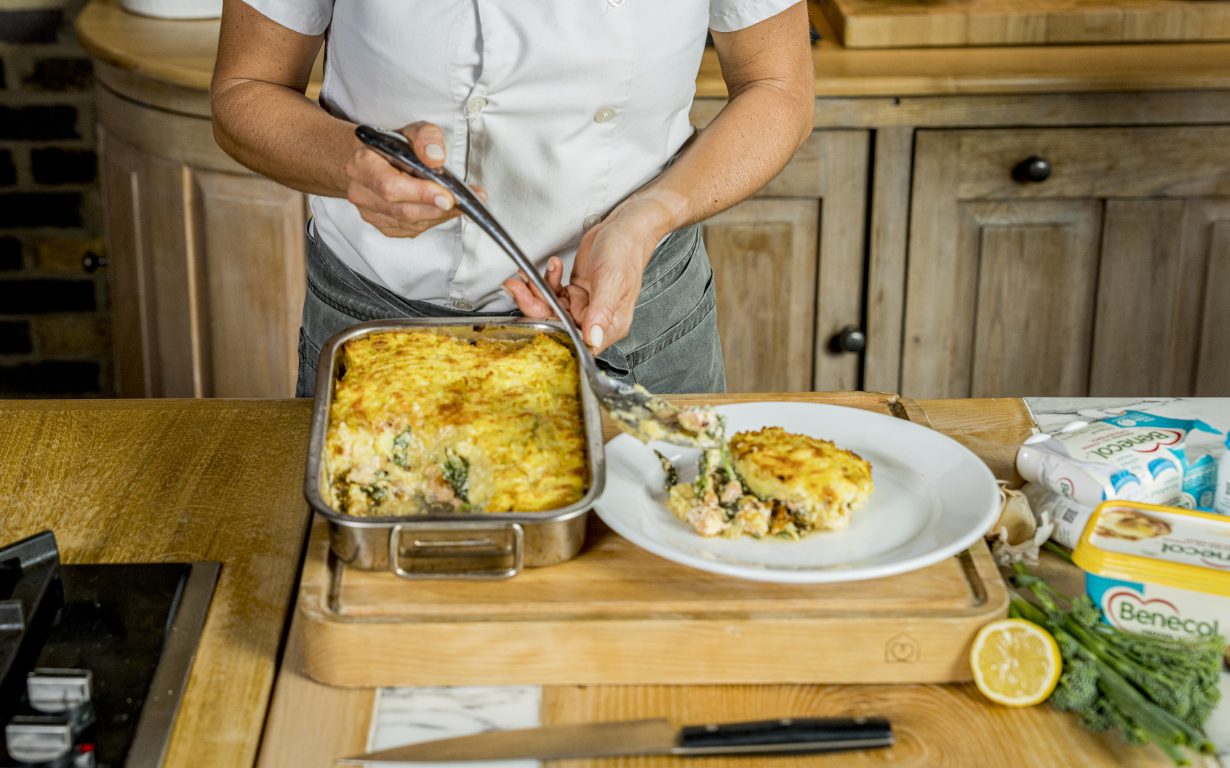 Serves: 6
INGREDIENTS
1kg potatoes, roughly chopped
45g Benecol buttery spread
25g lower fat cheddar cheese, grated
For the filling
1 tbsp vegetable oil
1 large onion, finely chopped
1 large carrots, finely chopped
1 large leek, sliced
250g baby spinach, roughly chopped
3 salmon fillets (~360g), cut into cubes
For the bechamel sauce
2 tbsp vegetable oil
3 tbsp plain flour
3 x 67.5ml bottles Benecol Original Yogurt drink
50ml skimmed milk or fortified plant-based drink of your choice
Black pepper
1 tsp garlic powder
METHOD
Pre-heat the oven to 140°C/120°C Fan/gas 3.
Bring a large pan of water to the boil, add the potato chunks and cook for 10-15 minutes until tender. Drain and return to the pan, add a tbsp of Benecol spread and mash. Set aside.
Heat the oil in a non-stick pan and gently fry the red onion, carrot and leek for ~8 minutes, until the vegetables are soft and the onions translucent. Remove the heat and stir through the chopped spinach leaves.
Tip the vegetables into an oven proof dish and set aside.
In the same pan you used to cook the vegetables, gently heat 3 tbsp of vegetable oil, add the flour, stir and cook gently for a few minutes until well combined and turning golden. Reduce the heat to very low and pour in the Benecol original yogurt drink and whisk to form a smooth bechamel sauce which will start to thicken, cook gently for a few minutes and then add the milk and a generous twist of black pepper and the garlic powder. Whisk and set aside to cook slightly.
Add the diced salmon to the oven proof dish with the vegetables and toss to combine. Pour over the slightly cooled bechamel sauce and mix well.
Top with the mashed potato and use a fork to flatten into an even layer on top, then use the tines of the fork to scrape little furrows along the top of the mashed potato. Place in the oven and bake for 30 minutes, until bubbling and starting to golden. Take out of oven.
Preheat a grill on high.  Sprinkle the top of the pie with the reduced fat cheddar and using oven gloves, carefully place the dish under the hot grill until the cheese is bubbling and golden. Keep you eye on it so it does not burn.
Per serve (334g): 463kcal, 21g fat, 3.7g saturated fat, 44g carbohydrates, 7.4g sugars, 6g fibre, 21g protein, 0.3g salt
One of your 5-a-day

Low in saturated fat
This recipe provides 1.5g plant stanol esters per serving (1/6 of the recipe – 334g).  Plant stanol ester has been shown to lower cholesterol in as little as 2-3 weeks. High cholesterol is a risk factor in the development of coronary heart disease. The beneficial effect has been shown with a daily intake of 1.5-3.0g plant stanols, as part, of a healthy diet and lifestyle.