'Cook with love, eat for life recipes' – Red Lentil Dhal Soup with Indian Spiced Broccoli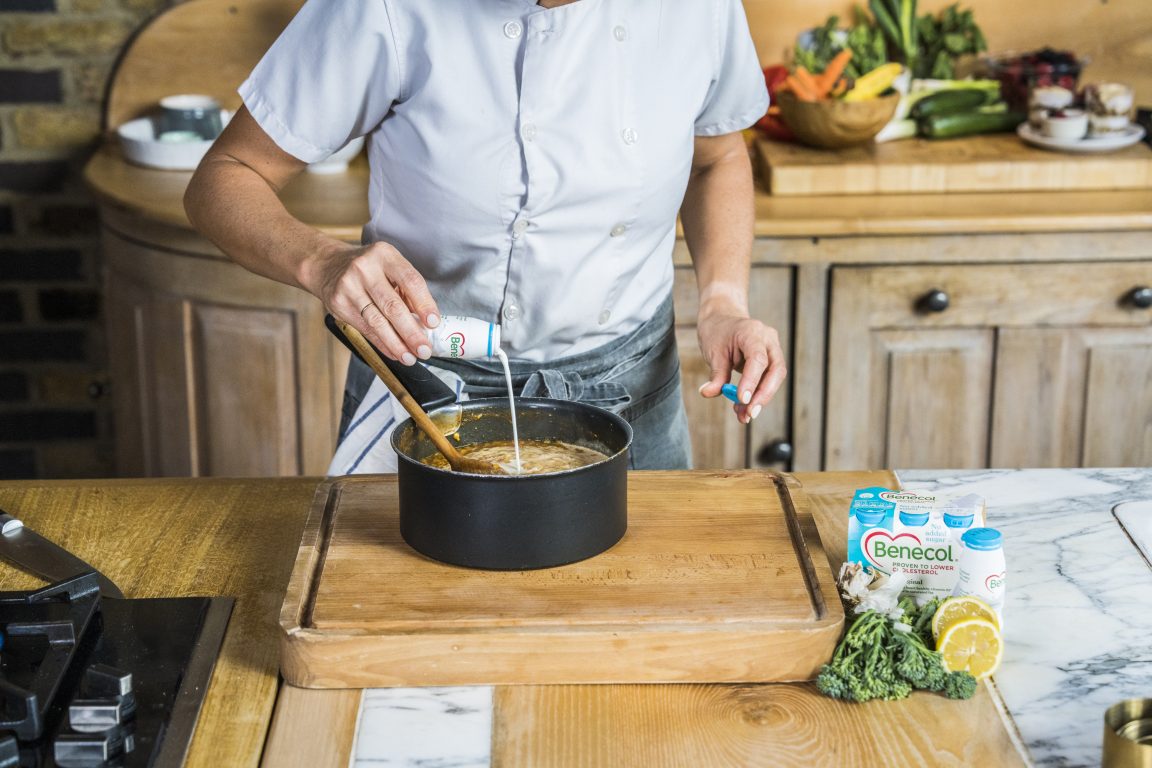 Serves: 4
INGREDIENTS
2 tbsp vegetable oil
1 onion, finely chopped
1 garlic clove, crushed or grated
1 tsp grated fresh ginger
1 red chilli, deseeded and finely chopped
1 tsp ground turmeric
1 tsp garam masala
200g red split lentils
1.3L reduced salt vegetable stock
½ lemon, juiced
3 x 67.5ml bottles Benecol Original Yogurt drinks
For the broccoli
150g long-stemmed broccoli, cut into large pieces
1 tsp vegetable oil
1 tsp mustard seeds
1 tsp cumin seeds
1 tsp coriander seeds
1 tsp dried red chilli flakes
METHOD
Preheat your oven to 180°C/160oC Fan/gas 4.
Heat the vegetable oil in a pan over medium-high heat and add the onion. Cook the onion, stirring from time to time, for 5-8 minutes until it is soft. Add the garlic, ginger and red chilli, and cook for 1 minute before adding the turmeric and garam masala and cooking for another 30 seconds to release the aromas. Stir in the lentils. Pour in the stock, reduce the heat and gently simmer for 20 minutes until the lentils start to break down.
While the lentils cook, make the spicy broccoli. Place the broccoli in an oven proof dish, drizzle with vegetable oil and toss to combine. Sprinkle with the mustard seeds, cumin seeds, coriander seeds and chilli and bake in the oven for 15 minutes until the broccoli is cooked through and crispy on the edges.
Return to the lentil soup, add the Benecol Original Yogurt drinks, stir well, and bring back up to temperature, do not boil. Stir through the lemon juice.
To serve: divide the soup between 4 bowls and top with the broccoli and serve with wholemeal rolls.
Per serve (486g): 319kcal, 10g fat, 1.1g saturated fat, 37g carbohydtrates, 7.3g sugars, 6g fibre, 17g protein, 1.3g salt
• Low in saturated fat
• Source of fibre
• Per serve 6g = 20% UK recommended daily intake
This recipe provides 1.5g plant stanol esters per serving (¼ of the recipe – 486g). Plant stanol ester has been shown to lower cholesterol in as little as 2-3 weeks. High cholesterol is a risk factor in the development of coronary heart disease. The beneficial effect has been shown with a daily intake of 1.5-3.0g plant stanols, as part, of a healthy diet and lifestyle.