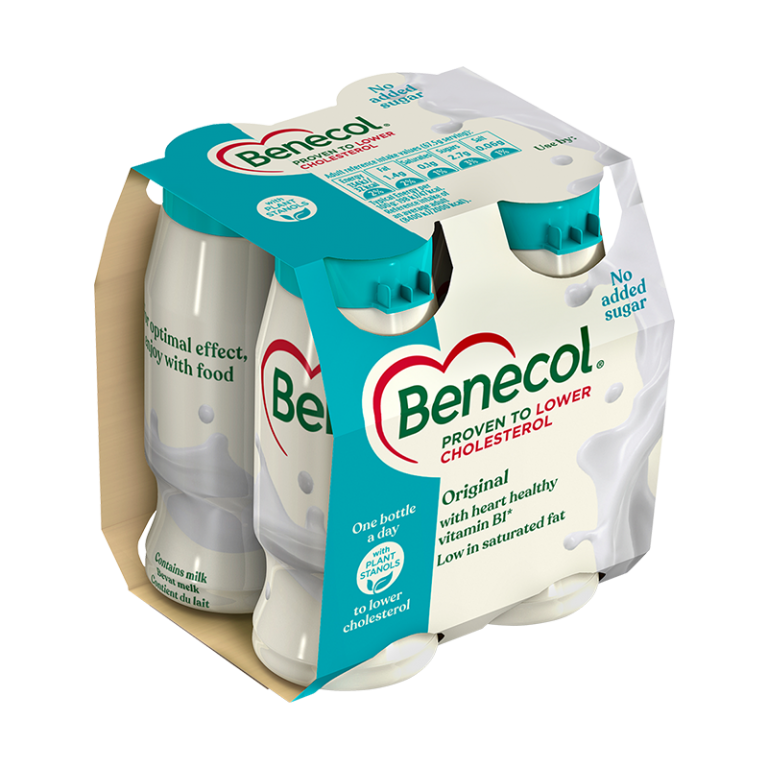 Nutrition facts
Per 100g

Per serving 67.5g

Energy

198 kJ/47 kcal

134 kJ/32 kcal

Carbohydrate

of which saturates

Carbohydrate

of which sugars

Protein

2.8 g

1.9 g

Salt

0.09 g

0.06 g

Vitamin B1

0.51 mg (46% RI)

0.33 mg (30% RI)

Plant Stanols

3.0 g

2.0 g
RI = Reference Intake
Original Yogurt Drink 4-pack
As all Benecol yogurt drinks, this delicious Benecol drink contains plant stanols which are clinically proven to lower cholesterol in just 2-3 weeks. Enjoy your 1 a Day for lower cholesterol levels!
Information
Having just one bottle a day also lowers your cholesterol by 7-10% in just 2 to 3 weeks thanks to our unique plant stanols. Each bottle also contains an extra boost of heart healthy vitamin B1 which is shown to help normal heart function.
Ingredients
Yogurt (85%) (Skimmed Milk, Yogurt Cultures), Water,  Plant Stanol Ester (Plant Stanols 3%), Lemon Juice, Stabiliser (Pectin), Sweetener (Sucralose), Vitamin B1*.
Contains naturally occuring sugars.
*Vitamin B1 contributes to the normal function of the heart.
Nutrition facts
Per 100g

Per serving 67.5g

Energy

198 kJ/47 kcal

134 kJ/32 kcal

Carbohydrate

of which saturates

Carbohydrate

of which sugars

Protein

2.8 g

1.9 g

Salt

0.09 g

0.06 g

Vitamin B1

0.51 mg (46% RI)

0.33 mg (30% RI)

Plant Stanols

3.0 g

2.0 g
RI = Reference Intake