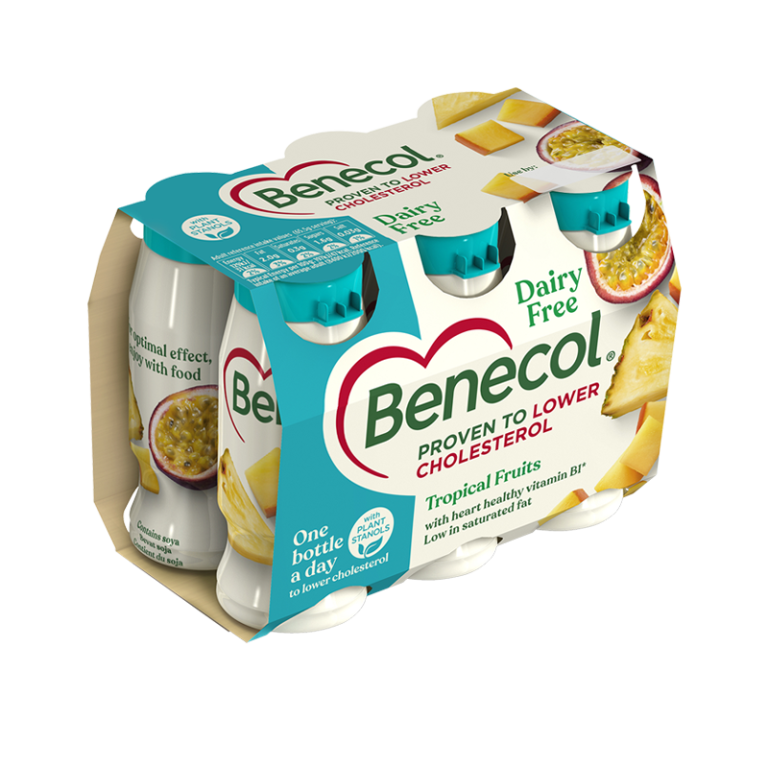 Nutrition facts
Per 100g

Per serving 65.5g

Energy

197kJ/47kcal

129kJ/30kcal

Carbohydrate

of which sugars

Protein

1.4g

0.9g

Salt

0.03g

0.02g

Vitamin B1

0.51mg (46% RI)

0.33mg (30% RI)

Plant Stanols

3.0 g

2.0 g
RI = Reference Intake
Tropical Fruits Soya Drink
Benecol Dairy Free drinks contain plant stanols which are clinically proven to lower cholesterol *.Enjoy just one bottle a day to lower cholesterol.
Information
Not only is this delicious yogurt drink bursting with the taste of tropical fruits, having just one bottle a day also lowers your cholesterol by 7-10% in just 2 to 3 weeks thanks to our unique plant stanols. Each bottle also contains an extra boost of heart healthy vitamin B1 which is shown to help normal heart function.
Ingredients
Water, Plant Stanol Ester (Plant Stanols 3%), Soy Flour, (Pineapple (2%), Passion Fruit (2%) and Orange (2%) Juice), Mango (2%), Lemon Juice, Fructose, Stabiliser (Pectin), Flavourings, Colour (Beta-Carotene), Sweetener (Sucralose), Cultures, Vitamin B6, Vitamin B1*
*Vitamin B1 contributes to the normal function of the heart.
Nutrition facts
Per 100g

Per serving 65.5g

Energy

197kJ/47kcal

129kJ/30kcal

Carbohydrate

of which sugars

Protein

1.4g

0.9g

Salt

0.03g

0.02g

Vitamin B1

0.51mg (46% RI)

0.33mg (30% RI)

Plant Stanols

3.0 g

2.0 g
RI = Reference Intake