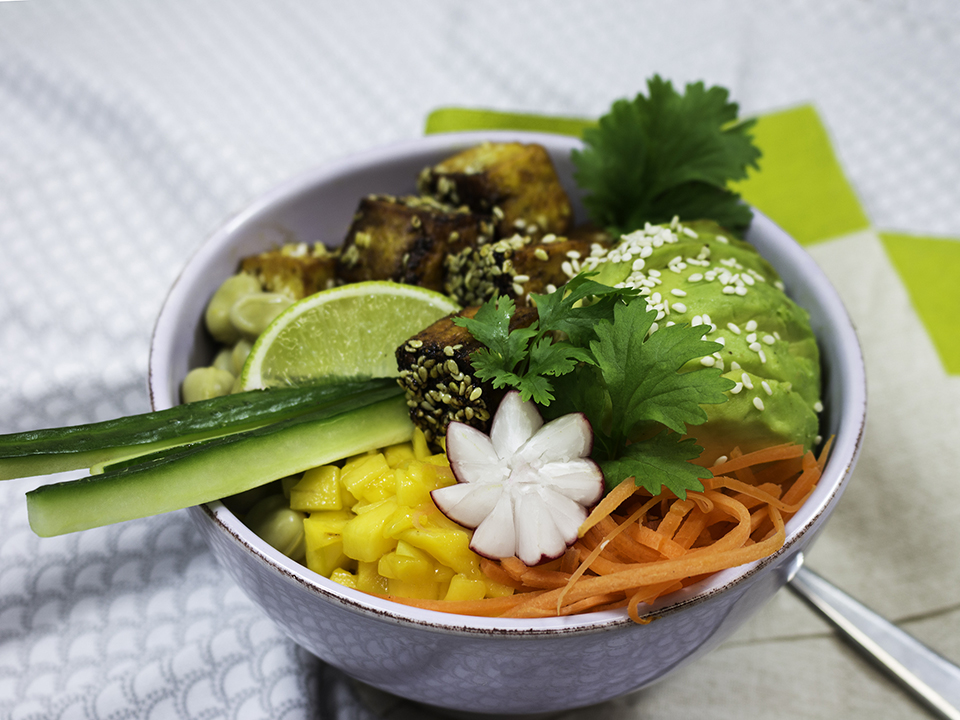 Poke Bowl With Tofu
Fresh and tasty poke bowl with tofu.
Ingredients
For the rice:

350g

water

1/4tbsp

salt

130g

porridge rice

For the spice sauce:

1/2tbsp

hot chili sauce (sriracha)

1tbsp

water

1½tbsp

liquid honey

1tbsp

rice wine vinegar

For the tofu:

250g

tofu

1tbsp

curry

1/2tbsp

paprika powder

2tbsp

sesame seeds

1tbsp

oil

1tbsp

sweet soy sauce

salt

lime juice

fresh coriander

You will also need:

100g

chopped mango

100g

sliced carrots

50g

cucumber

2

radishes

1

avocado

4tbsp

cooked broad beans or soy beans

sushi ginger
Method
Cook the rice according to the package instructions.
Prepare the spice sauce. Mix the spice sauce with the cooked rice, let stand in the refrigerator.
Cut the tofu in half lengthwise. Place the slices side-by-side on a clean dish towel and roll up gently.
Put a cutting board or similar on the package as a weight. Let the tofu dry for about 15 minutes under the weight.
Cut the tofu into large cubes.
COOKING
Heat a dry frying pan and brown the tofu cubes for a few minutes. Add the dry spices and sesame seeds. Add the oil and continue frying for a moment.
Reduce the heat, add the oil and soy sauce. Sprinkle the coriander on top, and take the pan off the burner.
Cube and slice the vegetables.
Arrange the ingredients in bowls and garnish with the spice sauce, lime quarters and coriander.