It's National Cholesterol Month
To mark National Cholesterol month, we at Benecol want to help get the nation's LDL-C tested.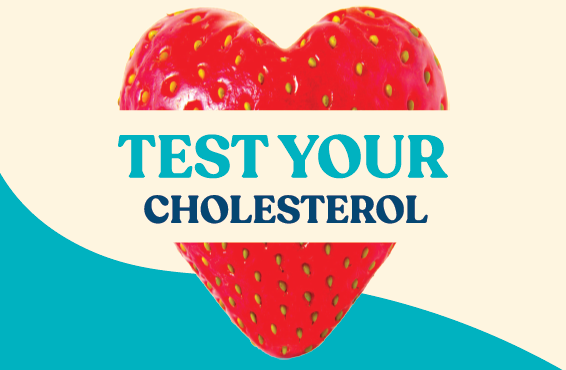 It's National Cholesterol Month and we at Benecol want to help the nation to know their number by getting their LDL cholesterol measured.
Elevated cholesterol is a risk factor for coronary heart disease (CHD), a type of cardiovascular disease (CVD). CHD is the leading cause of death and the most common cause of premature death.1
Raised LDL cholesterol (LDL-C) is associated with 1 in 4 heart and circulatory disease deaths in the UK.1   Consistent evidence from multiple different types of clinical and genetic studies unequivocally have established that LDL-C causes the atherosclerotic process behind CHD.2 Therefore, LDL-C lowering represents the primary target for reducing future CVD risk.2,3 LDL-C should be <3mmol/L for the general population and <1.8mmol/L in some higher risk instances.3,4
The NHS burden associated with CHD is a priority in England and is addressed through key objectives outlined in the NHS Long Term Plan.5 The NHS Call to Action is clear: to raise awareness of cardiovascular disease to help reduce prevalence of risk factors and promote both prevention and management via healthy lifestyle behaviours.6
However, whilst approximately 4 in 10 adults in the UK are living with cholesterol levels above national guidelines, 23 million Brits are unaware there are no visible symptoms of high cholesterol, meaning raised LDL-C levels are often left undetected.7
It starts with knowing your number
There are usually no visible symptoms of elevated cholesterol and taking a blood test is the only way to ascertain someone's cholesterol level.8 Consequently, high cholesterol can silently increase an individual's risk of heart and circulatory diseases.9
An individual's risk of high cholesterol is increased if they have an unhealthy lifestyle, are overweight, smoke, are older, have a family history of high cholesterol or have other health problems such as type 2 diabetes.10 However, anyone can have high cholesterol.
Benecol® want to get the nation tested
To mark National Cholesterol Month, Benecol® provided over 5,000 MediChecks® tests, which were available on their website from World Heart Day (29th September) to help Britons measure their LDL-cholesterol levels.
Corrine Toyn, Healthcare Professional Relations Manager at Benecol® says: "Our key objectives are to raise awareness of the consequences of elevated cholesterol and to support the NHS by helping to detect individuals with high LDL -C, especially those that are less likely to access a test. For example, individuals that may not fulfil the criteria for a CVD risk assessment or those who do not qualify for a NHS health check yet. "
Why is getting LDL-cholesterol tested important?
Evidence has suggested that the process of atherosclerosis can manifest before there are any apparent risk factors, progressing for decades before showing first symptoms.11
Given the early onset of the atherosclerotic process in many individuals, it may be unsurprising that a prolonged exposure to lower LDL-C beginning early in life is associated with a substantially greater reduction in CVD risk than the current practice of lowering LDL-C only later in life.12 In fact, long-term exposure to lower blood LDL-C has been associated with a 54.5% reduction in the risk of CHD.12 Therefore, early identification of high LDL-C is an essential strategy for lowering risk of CHD sooner rather than later. Prediction is always challenging and risk prediction tools have their drawbacks; for example, the 5–10 year absolute risk score in younger individuals may be an under-prediction of true lifetime risk for a slowly developing disease such as CVD.13 3,15The estimation of lifetime risk and other novel methods of risk communication, such as risk-adjusted age ('Heart age'), could therefore be used in addition to 10-year risk estimation14, which may improve patient understanding of their CVD risk, identify additional cohorts of the population who might benefit from preventative therapy, and motivate lifestyle changes and adherence to therapy early in the course of disease progression.
Lifestyle changes that can help to lower cholesterol levels include:3,15
Replace saturated fats with healthier unsaturated fats such as choosing vegetable oil-based spreads
Increase intake of dietary fibre by choosing wholegrain products and ensuring at least 5 portions of fruit and vegetables a day
Reduce weight if overweight – even modest weight reduction of 5-10% can improve lipid abnormalities
Avoid smoking
Aim for 5-7 hours of moderately vigorous physical activity per week or 30-60 minutes most days
Include a daily intake of 2g plant stanols with meals to lower LDL cholesterol by 7-10% if consumed daily with meals*. This reduction is in addition to what can be achieved with a healthy diet and lifestyle and/or cholesterol lowering medication.
Taking action to improve someone's lifestyle should be considered before and alongside pharmacological treatment. Patients should always consult their healthcare professional.
How can a free cholesterol test be ordered?
We at Benecol want to help raise awareness and get the nation tested to know their number.
To mark National Cholesterol Month, free tests in partnership with Medichecks® were available on the Benecol® website for patients to order. Tests were available on a first come first serve basis.
Although tests are now all gone, for those that missed out, you can still purchase a cholesterol test from the MediChecks® website here and get 30% off using the discount code BENECOL.
Medichecks®  tests are easy to perform at home and results come within a few days. Cholesterol tests are also easy to access at pharmacies and via your GP surgery.
Looking for additional resources?
For more information on how to lead a healthy, cholesterol-lowering lifestyle, patients can download the 'Keeping Your Heart Happy' patient information booklet on the Benecol® website for free here.
Healthcare professionals can download free educational materials, such as the EAS/ESC guidelines summary on our Resources page here.
If you are a healthcare professional and have elevated cholesterol, you may be interested in the Believe in Benecol 3 week programme in which you can try Benecol products for 3 weeks to experience the cholesterol lowering effects of plant stanols. Please email hcpmarketing@raisio.com for further information.