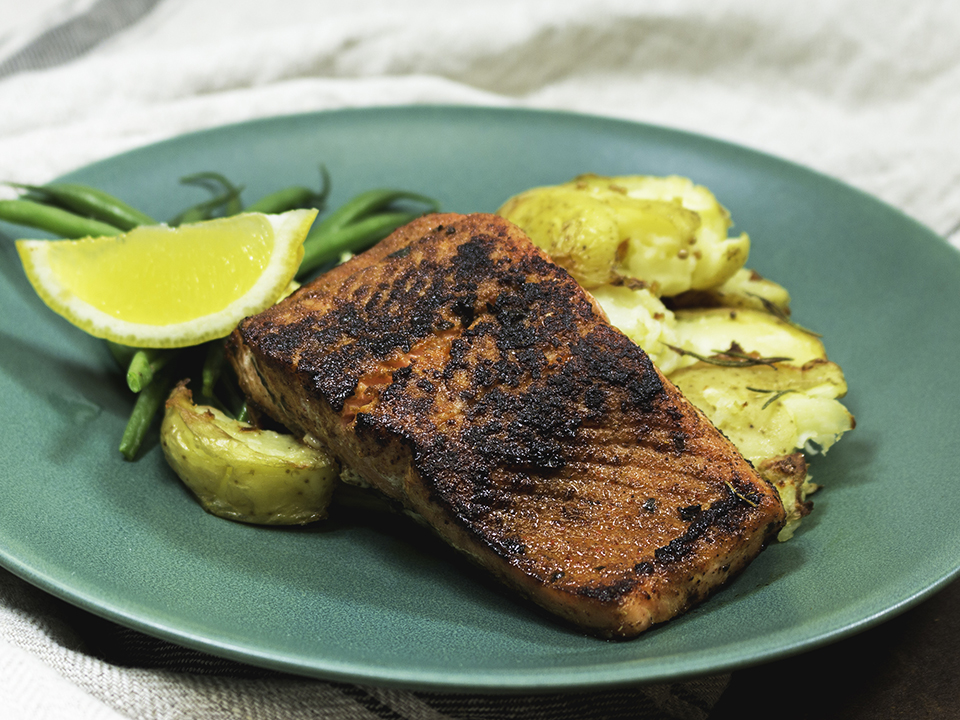 Fried Cajun Salmon And Crushed Potatoes
Ingredients
Salmon:

700g

boneless, scaled salmon fillets

1tbsp

cayenne pepper

2tbsp

paprika powder

1/2tbsp

onion powder

1/2tbsp

garlic powder

3/4tbsp

salt

pinch dried basil

2tbsp

Benecol Buttery Taste Spread

Crushed potatoes:

800g

early or new potatoes

1/2tbsp

Lemon oil

1tbsp

Mustard seeds

3/4tbsp

salt

fresh rosemary

On the salmon fillets:

Buttery Taste Spread
Method
Mix the ingredients for the Cajun spice mix together.
Cut the boneless, scaled salmon fillet into four pieces. Brush with oil on both sides. Sprinkle the spice mix on both sides of the fish and rub into the fillet surface. Refrigerate for about one hour.
COOKING Prepare the potatoes during that time. Wash the unpeeled potatoes well. Boil the potatoes in salted water until fork tender. Pour out the water and steam the potatoes.
Add the mustard seeds and half the Buttery spread to the potatoes, and then mix.
Pour the potatoes onto a baking sheet and carefully crush the potatoes by pressing them flat with a cup, glass or the base of a bottle.
Brush lemon oil on the surface of the potatoes and sprinkle with salt and fresh rosemary. Bake at 225 degrees on the middle shelf of the oven for 15 minutes.
Heat 1 ½ tbsp of Buttery spread in a frying pan. Lift the salmon pieces into the pan and reduce the heat. Depending on the thickness of the fillets, fry at medium heat for 5–7 minutes on each side.
Brush the salmon fillets with Benecol Buttery Taste spread. Serve with crushed potatoes.
Products used in this recipe