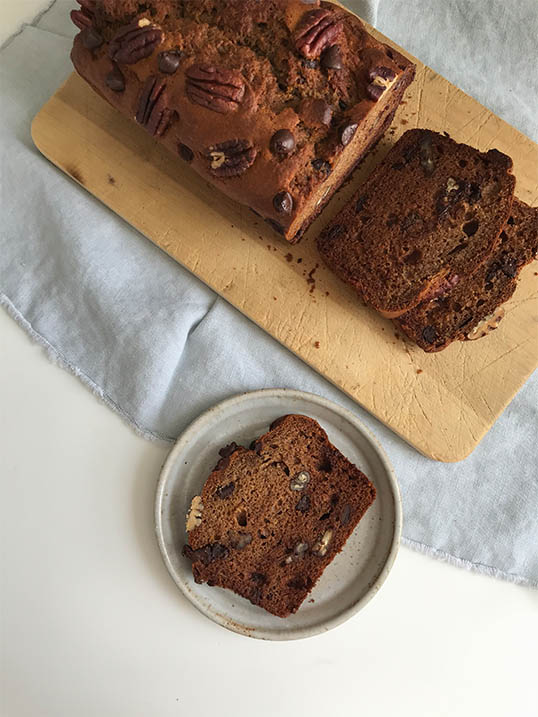 Chocolate and Pecan Banana Bread
This recipe is certainly more of a bread than a cake and therefore benefits from a little extra benecol spread when serving a slice. I decided to cut out any refined sugar and just use the natural sweetness of dates, vanilla and the very ripe bananas themselvesBenecol Recipe by Milli Taylor
Preparation time
Over 60 min
Ingredients
140 g

of pitted and roughly chopped Medjool dates (Approx. 8 dates)

150 ml

water

2

very ripe bananas (160g chopped weight)

1 tbsp

vanilla paste

pinch

of fine sea salt

100g

Benecol Buttery spread (plus extra spread to serve)

2

medium eggs

170 g

plain flour

2 tsp

baking powder

1 tsp

bicarbonate of soda

70 g

66% cocoa solid chocolate chips

80 g

pecans
Method
Preheat oven to 160c FAN (180c convection oven)
Add chopped dates and 150 ml of water to a small saucepan and simmer for a few minutes,
until the dates soften and become a chunky puree.
Blitz the bananas, vanilla paste, fine sea salt and the cooled dates in a blender.
In a large bowl, whisk together the Benecol spread and the eggs, then mix in the flour, baking
powder and bicarb.
Mix in the date and banana puree.
Stir in all but a few pecans and chocolate chips (reserving some for the top of the loaf)
Line a loaf tin with lightly greased baking paper and pour in the mix. Sprinkle the nuts and
chocolate on the top and bake in the oven for 45mins-1hr or until a skewer comes out clean. Check with a skewer after 45 minutes so that you know where you are.
Let cool in the tin (you will need a 2lb loaf tin) for 10 minutes before turning it out to cool properly on a wire rack for at least an hour before slicing and spreading with a little more Benecol spread to serve.
Products used in this recipe