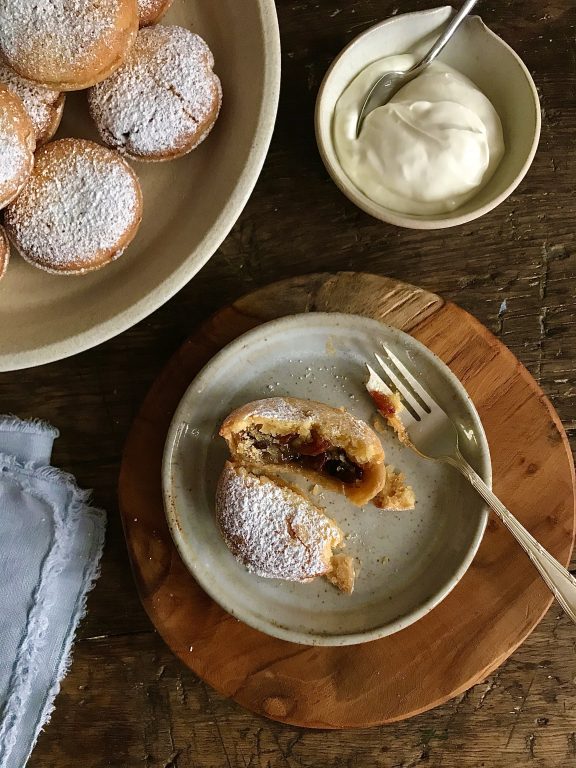 Mince Pies with Frangipane & Orange Zest
Those mince pies were specifically developed with Benecol spreads and their added plant stanols proven to lower cholesterol, so you can enjoy a tasty and guilt free treat this season. Benecol Recipe by Milli Taylor
Preparation time
Over 30 min
Ingredients
PASTRY

150 g

plain flour

80 g

1

medium egg yolk

pinch

of salt

1/4 tsp

ground cinnamon

25 g

caster sugar

FRANGIPANE TOPPING

100 g

ground almonds

100 g

100 g

caster sugar

1 tbsp (heaped)

plain flour

1

medium egg

1

orange (for the zest)

pinch

of salt

1 jar

of mincemeat 410g

Dusting

of icing sugar, if you like
Method
You will need a 12 hole mince pie/muffin tin and an 8cm scone cutter.
180c (160 fan)
Add all the ingredients for the pastry into the food processor and pulse until the mix appears as damp breadcrumbs. Tip out into a large bowl and bring together with your hands until it is in a ball. It will come together well as the dough relaxes in the fridge. Wrap in cling film and refrigerate for an hour.
In the same bowl of the food processor, you can make the frangipane. Add all ingredients and whizz until you have a smooth paste. Scrape the frangipane out into a bowl, cover and refrigerate for an hour.
Take the pastry out of the fridge and work it a little in your hands into a ball and then flatten the ball in-between two sheets of greaseproof paper. Roll out until 3mm thick and then cut out rounds with the scone cutter. Bring the leftover pastry together and roll out again to cut more rounds.
Place each disc of pastry into the tin and press gently into the tin. Spoon 1tsp of mincemeat into each pie allowing room on top for the frangipane.
Spread the frangipane on top with a small spatula or knife and then bake in the oven for about 25 minutes or until nice and golden brown.
Allow to cool slightly before serving, and dust with a little icing sugar, if you like.
(Keep any fully cooled mince pies in an airtight container)
Products used in this recipe