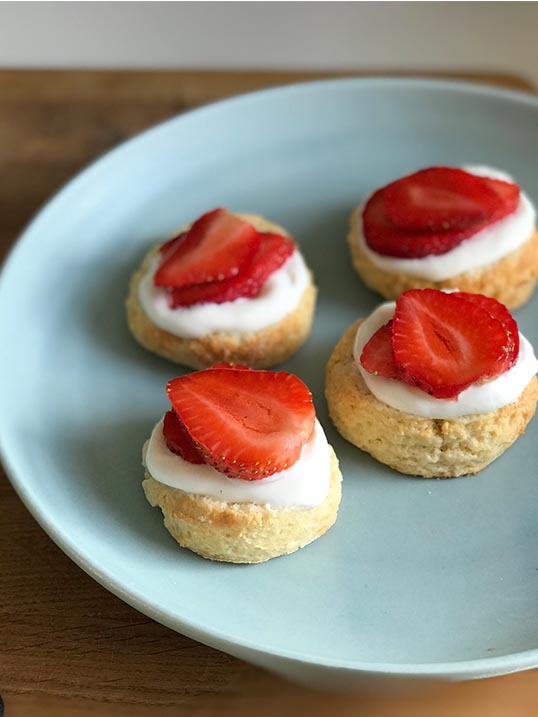 Scones
These scones taste just like scones made with normal butter - as fresh the next day as the day you make them.Benecol Recipe by Milli Taylor
Preparation time
Over 30 min
Ingredients
165 g

Plain flour, plus more for dusting the board

1 ½ tbsp

caster sugar

Small pinch

of fine sea salt

1 ½ tsp

baking powder

50 g

Benecol Buttery taste spread (from the fridge)

2

Benecol original no added sugar yogurt drinks

2 tbsp

milk or plant based milk

5 strawberries or a few tsp of low sugar jam

Extra benecol Buttery for spreading, or low fat soft cheese/quark
Method
You will need a 2inch scone cutter
The recipe takes 5 minutes to make but your oven may need longer to reach the correct temperature, so best to preheat oven 10 minutes in advance of cooking.
Preheat oven to 200c FAN (220c convection)
Mix your flour, sugar, salt and baking powder in a bowl and then rub the cold Benecol spread in with your fingertips until it resembles bread crumbs.
Start to pour the Benecol yogurt drinks in one by one and work each one in with the cutting motion of a dinner knife until it just comes together, it is important not to over mix in order to achieve light scones.
Lightly dust your work surface with flour and then turn the dough out over it. Dust a little more flour over the dough and start to flatten it gently with your hand or rolling pin keeping the height to about 2.5cm.
Stamp out your scones and lay on a non stick baking sheet, you can make the last scone with the pieces of dough you have left, pushed together.
Brush the tops of the scones with a little milk and then bake in the oven for about 12 minutes.
Let to cool for a few minutes on a wire rack and then slice in half and top each scone half with either more Benecol buttery taste spread, or Benecol Original soft cheese , and 1/2 tsp of low sugar jam or a few slices of strawberry.
Products used in this recipe