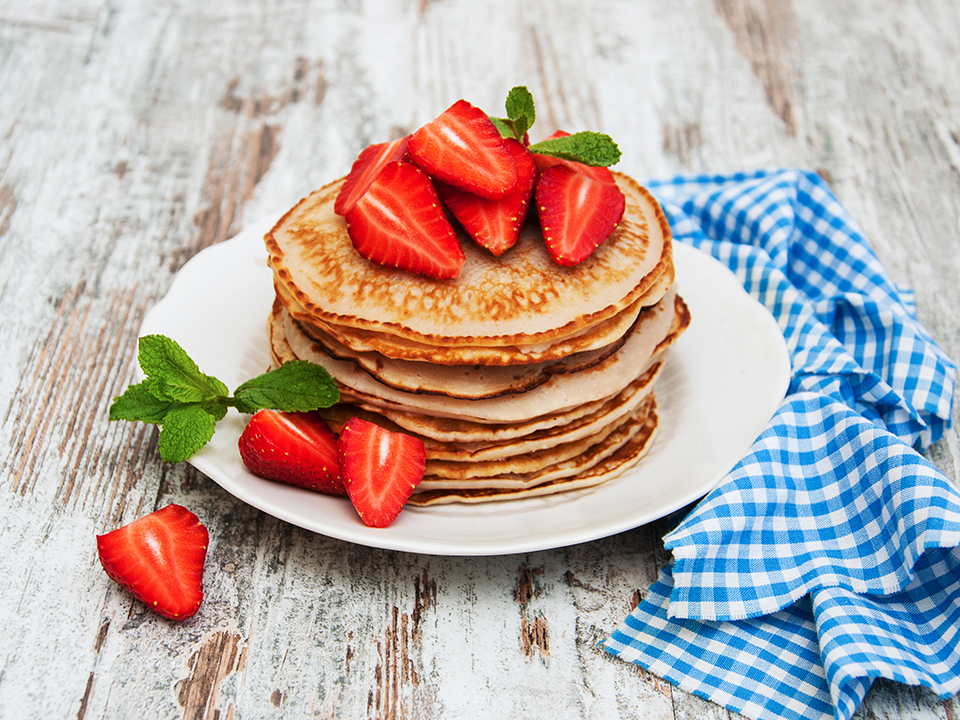 Fluffy American Pancakes
Whether you are celebrating pancake day, cooking up breakfast or brunch at the weekend, pancakes are a great way to start your day.
Ingredients
150g

plain flour

1/2tsp

salt

1tbsp

baking powder

1tbsp

caster sugar

225ml

semi skimmed milk

1

eggs lightly beaten

30g

melted and left to cool slightly Buttery Taste Spread
Method
Sift the flour into a large bowl, and then add the salt, baking powder and caster sugar. Mix them all together thoroughly.
Pour in the milk, beaten egg and cooled melted Benecol Buttery spread.
Whisk well until the batter is completely smooth. If you have any lumps remaining, they will soon disappear. Let the batter stand for a few minutes before using.
Heat a non-stick frying pan over a medium heat. Most non-stick pans won't need to be greased, but if yours does, just add a little cooking oil.
When the pan is hot, add a ladle of the thick batter to the pan. If your pan is big enough, you can cook 2 or even 3 pancakes at the same time.
Leave it for a minute or so, until you start to see bubbles forming on the top of the pancake.
Then flip the pancake over carefully, and cook for another minute until the pancake is golden brown on both sides.
Repeat until you've used all of the batter. You can keep the pancakes warm in a low oven if you want to serve them all at the same time, but they taste best when you eat them fresh from the pan!
Tip
If you're serving this for breakfast or brunch, you can get ahead by doing some of the preparation the night before.
Products used in this recipe